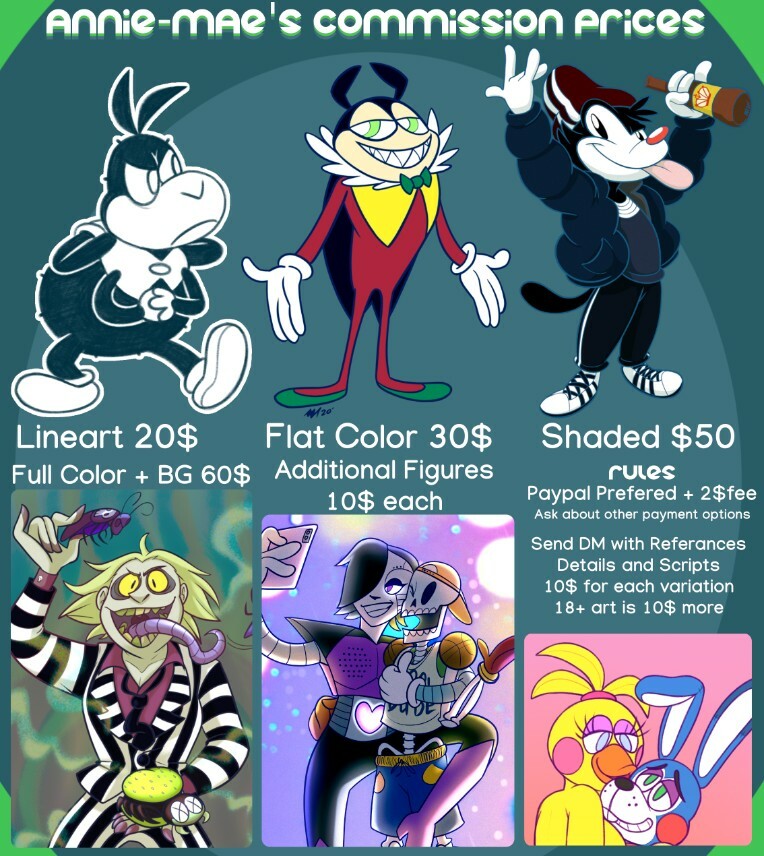 All PayPal fees will be 2$ if under 100$. Over 100$ will be calculated after final totals. I can accept other methods of payment if necessary (Skrill is an option).
Lineart - $20 
You pick between either pencil lineart or a black solid lineart. It depends on what style you'd prefer as either style is clear and readable.
Flat Colors - $30
Bring your lineart to life with simple flat coloring and an obtuse background.
Shaded Colors - $50
Add depth and tone to your drawing, will be on a simple flat colored Background.
Full Coloring -$60
When your pic needs to be print ready and able to be used for many other platforms, I love making pics that have great layers of color and crisp lineart. You can request any sort of background or setting for the character to be in.This is the next stage after the Shaded Colors.
Additional figures will be 10$ each.
Large Projects
I get often pretty big projects, where commissioners want multiple drawings and stories of their characters. I want to work with you to draw what ever you had envisioned, but these things take time. These big commissions tend to take go through a few months, because I am rather slow. These projects such as Comics and Telegram Stickers also add up to over $100. I ask that you be up front about everything you need from the comic and be patient. Thank you, I would love to work with you.
Add-ons and Variations will 10$ each. - If the image requires more then one PNG file to be submitted, that will cost 10$ for each file.
Mature Themed Full Colored Art
Pretty much you'll get the same top quality as the other levels of coloring for clean artwork, just because they are usually NSFW pics, they are just more expensive. PayPal fee will be calculated after final total. 
Lineart - $30 // Flat Colors - $40 // Shaded Colors - $60 // Full Coloring -$70
Extreme Fetish (depending on Fetish)
Acceptable Fetishes: Bondage, humiliation, sub/dom play, gore, violence, stimming, pegging, electro play, and anything you might've already seen me draw in my gallery.
I DO NOT like drawing Incest, diapers, child (shota, loli, furry and non furry), birthing or unbirthing, foot, and inflation (maybe more I can't think about now). You can ask me if I'll draw it but minimum price starts at 150$ and will go up.
To commit to a commission send me a Notes, PMs, DMs, or what ever contact you have with me.
Rules:
Digital pictures will be paid in full BEFORE picture will be started. If you must do partial payment let me know before hand. PayPal invoice is preferred but if you have experience with other payment methods (real money only), let us talk about it, I would like to learn.
Due to past instances where people use the lower priced commissions as partial payments for a full colored pic, that is not allowed anymore. You will get charged in full for every new commission order, EVEN if it's of the same image. If you cannot afford to pay in full, be honest about it. I've had people ask for a sketch to have it end up turning into a full priced commission.
I do not get commissions often, so I want to treat them like a nice project I can take my time on. Due to work and life, I will be honest, I have a tendency to drag out a commission waiting period. This is a habit I hate that happens every now and then. I do not want to take longer then 3 months on a piece, but if I do, I allow you to crack the whip at me. I'll do my best to keep you in touch. If you need it rushed, I can indeed rush the image but let me know ahead of time.
I don't mind learning how to copy a style you like, but if you want to commission me I would hope it's because you like the way I draw. If you're asking me to replicate an image to be on model to a pre-exsisting style, it feels a bit disrespectful to my style. I like to experiment, but I would hope you'd like to see your character done the way I would do it, and not the way someone else would.